When my wife turned 40 and I turned 50, I knew we were about to have some significant changes in our sex life.
I could never satisfy her truly, and my dick was less and less efficient on her pussy.
I just wanted to see her properly fucked, even though she wasn't thrilled about being shared. Our first adventure was a swinging experience with a college friend and her husband.
Once she had a cock twice as big as mine inside her pussy, she adopted the hotwife lifestyle on the spot. And she proved very open-minded after that.
Not only that we start talking about our possibilities, but she started requesting some options. She asked me to find her a younger man. Then when she got bored, she wanted to try it with a Latino man. I hired some immigrant workers who were happy to make cash and also fuck a white lady.
But she got bored with them too. We talked about black guys, but she said she wasn't ready, claiming that she thought it would hurt her too much. But I think she's afraid not to like it too much and ruin what's left of our relationship.
How My Wife Asked For A Bully
So, to get her used to the idea of a BBC, we started watching interracial cuckolding porn together.
We started with some mainstream porn movies, then quickly realized that everything was fake in them. Then we discovered hotwife face fucking porn here: https://www.facefuckingporn.com/, and that's all we watched for a couple of weeks.
And then, while we were both at work, I got a message on my phone. It was some kind of a meme but made out of a porn pic in which a white woman is fucked by a big black man. And the texts weren't friendly at all.
My wife has discovered cuckold bully captions and was instantly hooked on them. She kept sending me dozens every day. And when we would get home in the evening, she would make me go through them again.
Sometimes she would read them out loud while masturbating or make me read them when she was close to cumming. I didn't know what to think of it at first. I was intimidated.
The violence in these captions scared me. But seeing how horny she was for this type of cuckolding made me want it too. And so we decided to try it.
The First Night Of Bully Sex
I've seen my wife fucked by multiple men. Sometimes she even taunted me, and I cleaned up other men's sperm out of her pussy at her demand.
It wasn't my thing, but I did it for her. But no matter how many cocks I've seen going in and out of my wife's pussy and asshole, I wouldn't have been prepared for such a first encounter with a genuine black bully.
And that's because my wife had the brilliant idea of contacting Darius, my real bully from high school.
I told her about Darius and how we buried the hatchets after graduation. But that's just because our football coach forced us to part ways on a friendly note. But my wife convinced me that having my real bully for this fantasy would be the ultimate orgasmic experience for both of us.
So I got in touch with Darius, who was single and ready to mingle. He didn't even need us to explain what it was all about. He figured it out from how we approached him through social media, and we later found out that he always gets this kind of request.
He is indeed a big black man with what I remember to be the most enormous cock I've ever seen in the locker rooms. He even came from behind once while I sat on the locker room bench and slapped me across the head with his dick for everyone's amusement.
I feared him back in college and felt the same when he knocked on our door. My wife messaged him more than I did because he was already up to what she wanted.
When he entered the house, he didn't take off his shoes, didn't shake my hand, handed me his jacket, picked up my wife, and walked her up the stairs into the bedroom like she was a skinny teen girl. I was emasculated from before they even started fucking.

The Face Fucking Broke My Wife's Spirit
I was under the impression that Darius only had to bully me occasionally. And my wife as well. As I walked up the stairs, I could hear her giggle and exclaim, "Omg! It's so big," as she kneeled and removed his pants.
And then I could listen to Darius say, "Shut up and swallow it, white bitch!" The most brutal and hurtful gagging followed, and I could hear my wife's panic through her heavy breathing and broken screams, just like we were watching at https://www.facefuckingporn.com/category/black-payback/ a few weeks ago.
I rushed to the bedroom door, and I couldn't open it. Darius was leaning on the door with my little wife's head in his big hands, using her throat as a pocket pussy on his foot-long cock. I could hear that my wife was in distress but couldn't move the door an inch.
I started banging and shouting. That's when the door opened, and I was grabbed by my collar and tossed across the room onto my marital bed.
"Shut up! Or you'll be next!"
Although my wife was shocked by the roughness of the facial abuse she suffered, I guess her feminine instincts were overwhelmed by how Darius manhandled me, and that's when she became his bitch.
She calmly crossed her hands behind her back and opened up her throat for his big black cock, and turned it from a bendy snake into a rod the size of her forearm.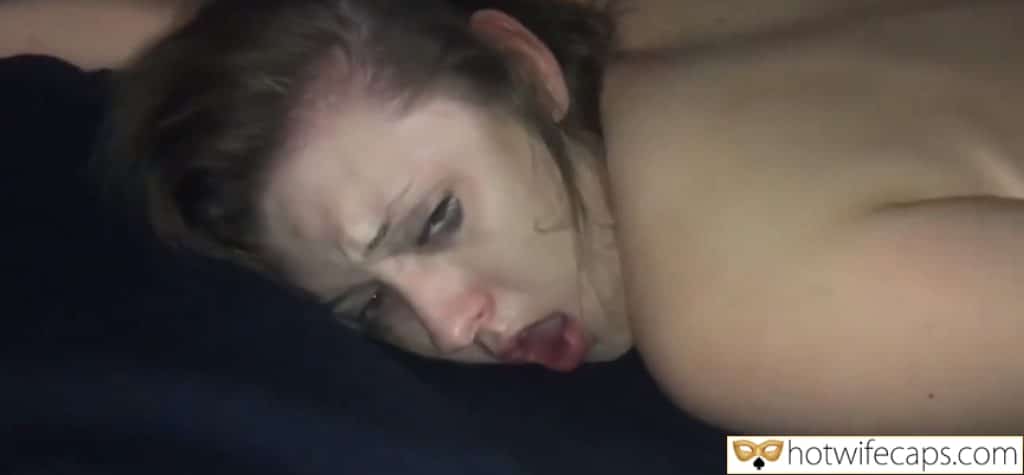 He then signaled my wife to get onto the bed next to the men and ordered me to hold her close because she would hurt.
"Yes! Hurt me, baby! C'mon!"
That's what my wife said when she started cuddling into my arms. I could feel her shaking, and she had an uncontrollable giggle. I felt like I wasn't even in the room. And Darius noticed it too. That's when he slapped me across the face and ordered me to pay attention.
When he started pushing his dick inside her pussy, I could see how her hole stretched, and then her belly bulged. In all this time, my wife only let out a long, loud scream while she drove her nails into the sides of my hips as she tried to manage the pain.
I felt like we were sharing the pain of his dick. And he didn't manage her at all. It took her two full minutes of screaming from the top of her lungs until she could start formulating moans and dirty talking.
And then, after she got used to his dick, my wife's fantasy started playing out. She asked Darius to pick on me just like he used to when we were in high school, but without stopping from pumping her full of black meat.
He remembered the most embarrassing nicknames, slapped me, and flicked my ears, and then he made me suck on his middle finger. When my wife saw that, she grabbed his other hand and started sucking on his middle finger as well. But she was doing it with more passion than she ever put into any of the blowjobs she gave me.
I had no courage in me to stand up for myself. For some weird reason, my absolute lack of powers was making my wife laugh hysterically while she was also moaning and enjoying the best cock of her life.
The Hardest Challange In The Slutwife Rough Sex Initiation
After a while, Darius got thirsty and ordered me to bring him a bottle of water from the fridge. Although it might seem humiliating to fetch water for the man who got thirsty fucking your wife, I felt so relieved that
I was allowed to leave their sight even for a little bit. While I was downstairs, my wife stopped her pleasure moans, and after a second of quiet, which felt like forever, she started begging in tears, "Not in the ass, please! Not in the ass!"
I went back into the room like a ghost. My wife cried in pain, and Darius seemed to enjoy her torment. Jamming his massive dick into her ass caught his attention like he was solving a puzzle.
That's the moment when I finally felt something sexual in this whole debauchery. I got an instant boner and decided not to let it go to waste or have my orgasm ruined for the entertainment of my hotwife and bully.
I jerked off in the corner quietly, not to be spotted, and then jizzed on the floor while holding the water bottle in my other hand. As soon as my post-nut clarity settled, I bolted across the room to offer hydration to my bully.
He called me a good boy and petted my head. Then he told me he had a reward for my good behavior. He pulled out his black snake from my wife, whose ass was so gapped light was entering her colon, and told me to clean it.
My wife, on all fours, couldn't even turn around to watch me. She looked at me through her crotch, but I could see that she was turned on by me sucking a cock clean because she reached her clit and started rubbing it while moaning. Darius was kind enough to jerk himself off onto my face. And then he left!
My wife grabbed me by the hand and dragged me onto the bed, where we started cuddling without saying a word.
My face and hair were covered in cum, and she was still getting orgasmic aftermaths occasionally. We fell asleep as she was caressing my little dick and balls. The next day she fixed me breakfast and asked if we could do this again sometimes. I said yes!
jackoffformecaptions story hotwife bbc chastity wife caption naked fertile cheating white wife stories cuckold wife pictures disciplined wife cuckold Divorce wife cheating pornography fertile white pussy black cock story forced wife caption porn friends wife captions gifs pon cuckold in africa story cheating wife of soldier fuck caption cheating wife anal captions cheating text stories porn cheating husband asstr your wife would rather be fucking this cock captioned photos bull captions boss cuckold impregnation captions black cock boss own white slut wife sex stories bbc bullies my gf into sex